Websites / CMS WordPress
CMS Wordpress

Warranty and support for 12 months.
Graphic design is developed until full acceptation.
Website supporting after the work is finished, fix errors.

Updating CMS WordPress and add-ons, finding and eliminating problems that occurred after an update.
Security monitoring for the website, finding and removing viruses.
Over 10 years of experience, professional consultancy.

Security backup of WordPress CMS and add-ons, restoration of the website in case of failure.
World's most popular system for managing the content of a website. It allows users to control the content without changing the code:
any number of subpages, layout can be chosen from among pre-designed templates,
intuitive modification of subpage order using drag and drop method,
advanced text editor with functionality similar to Microsoft Word,
extensive image gallery with division into categories and individual descriptions,
fully-functional blog with an option for customers to add comments.
I help companies stand out on the internet and achieve success.
See examples of my work and be sure of an excellent quality of your graphic design.
My recent jobs
Price of preparing website from graphic design from 1070 USD / PROMOTION, programming priced individually depending on the number of subpages and their complexity.
Price list of websites
To reduce the cost of the website, it can be made of a ready-made template without a graphic design, price from 90 GBP:
Website template

Standards: RWD, WCAG, SEO
HTML5, CSS3, Bootstrap, jQuery, AngularJS, AJAX, PHP, MySQL
Work stages:
I. Design prototype
We start with preparing a model of the website structure. Together we choose and place information that is most vital for company development and effective sales. I encourage you to see some example questions and structure elements.
II. Graphic design
A graphic design of the homepage and a logo is prepared on the basis of the prototype and according to the established guidelines. Once the right structure, colors and fonts are selected, we prepare additional subpages containing more detailed information about the company or its products.
The work is continued until the project is fully accepted.
III. Incorporating graphic design
In this stage, the graphic design is adjusted to work in the Internet. The code is prepared, optimized for Google search engine positioning and adjusted for people with disabilities. All graphic files are compressed to have minimum size, while keeping high quality.
IV. Adjusting the website for mobile phones and tablets
The template is well-adjusted to work on screens with smaller resolution, such as mobile phones and tablets. Website layout becomes vertical, mobile menu is added, information is organized a new and the less important pieces are removed.
Responsive Web Design
V. Installing and configuring WordPress
WordPress system is installed on a server together with the most popular tools increasing safety and load speed, making data backup on a daily basis and adding new functionalities to the built-in text editor.
VI. Programming
The template is connected to WordPress system. All the website elements, such as menu, headers, subpage content or images can be conveniently modified using control panel.
VII. Testing and optimization
The website is tested for compliance with standards. The prepared website will display correctly on popular web browsers (Chrome, Firefox, Edge / Explorer, Safari, Opera), mobile phones and tablets (Android, iOS, Windows).
VIII. Adding content and translating to foreign languages
The website is preliminary filled with information submitted in any languages according to optimization guidelines for Google search engine. Optimal quality of images is very important, so it is a good idea to use dedicated banks of images prepared by professional photographers.
IX. Moving to the target domain
I assist in choosing an adequate domain and install the new website on the target server. I connect tools that are helpful for analysis, checking the efficiency of online campaigns, Google Analitics and Google Search Console.
X. CMS system training
The last stage of realization is a training on the content management system and a discussion over methods of advertising and promotion in the Internet. To facilitate learning the use of WordPress system, I have prepared a tutorial that explains all the useful functions step by step.
XI. Monitoring
When the project is finished, the website is constantly monitored. Its load speed is tested and broken links are detected.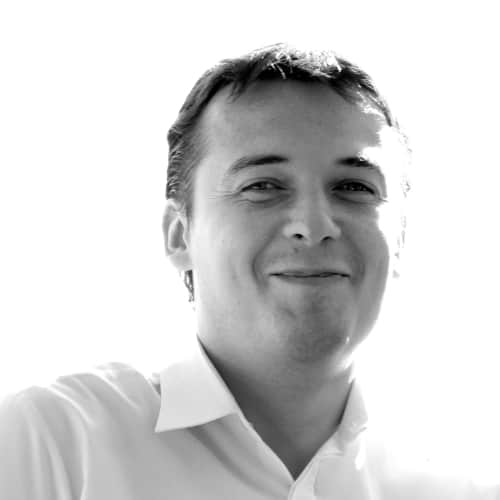 MACIEJ SKRZYPCZAK
Wordpress Specialist / Programming
Graphic Design / Print